With decades of aluminum forging experience, Brass Aluminum Forging Enterprises is the place to go with your aluminum forging project.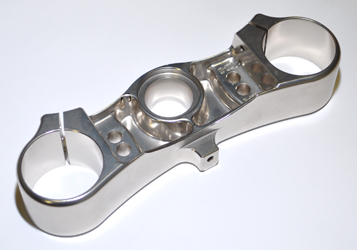 Aluminum is a metal used extensively in the forging industry and is regarded highly due to its effectiveness in creating high performance parts. Aluminum is light in weight, has an excellent strength-to-weight ratio and anti-corrosion properties which make it ideal for aerospace, automotive, motor sports and defense projects. Aluminum provides the performance and safety required while maintaining the lightness needed for speed and energy efficiency. Aluminum is extremely durable, prevents corrosion and is known for its malleability, and for these reasons aluminum is the most widely used metals in the industry.
Closed-die forging, often referred to as impression-die forging, is a manufacturing process where metal is pressed, pounded or squeezed under great pressure in between two dies to produce high-strength parts. Because the dies restrict the flow of the metal, the forging process is the best option for intricate designs and close tolerances.  Closed-die forging has the capability of producing an almost limitless variety of shapes with a range in weight from just a few ounces to more than 25 pounds.
Forged aluminum is perfect for aerospace due to the harsh environmental conditions that the parts are up against. Aluminum structures are durable and lightweight which also supports the unique needs of the aerospace industry. Many aluminum products are manufactured using aluminum alloys with varying degrees of hardness depending on the specs of the project. Pure aluminum, however, is used when corrosion is a critical consideration such as in aerospace.
Professional racecar drivers prefer forged aluminum wheels for racing competitively. Aluminum wheels are built for speed and performance because they are lightweight, strong and extraordinarily stiff.  Forged aluminum wheels are frequently used in high performance sports vehicles as well.  Pistons, gears and wheel spindles in high performance automobiles and aircraft are often made from forged aluminum as well. Pound for pound, aluminum absorbs twice the crash energy of steel and performs as well in an accident. As a result, aluminum is a very good option for use in automotive parts.
Additional benefits of using aluminum include the fact that aluminum is 100 percent recyclable and retains its properties indefinitely. Infinitely recyclable and highly durable, nearly 75 percent of all aluminum ever produced is still in use today.  The energy required to produce new aluminum is down more than a quarter since 1995 and the industry's carbon footprint is down nearly 40 percent.
Brass Aluminum Forging Enterprises takes great pride in producing high-quality, closed-die aluminum forged parts, specifically in the areas of aerospace, defense, automotive, and recreational motor sports. For over 80 years, our diverse customer base has trusted us to be part of their team, allowing us to help them create the often complex products they design. After thoroughly reviewing the specs in our product review process, we work together with our clients to provide them with creative solutions for their unique designs. Our forged aluminum products are heat treated for additional strength and durability, and we always provide our clients with a quality finish using our proprietary finishing process.
965 Wanda Street
Ferndale, Michigan 48220
T: (248) 591-3500
F: (248) 541-1780
E: rfq@baforging.com